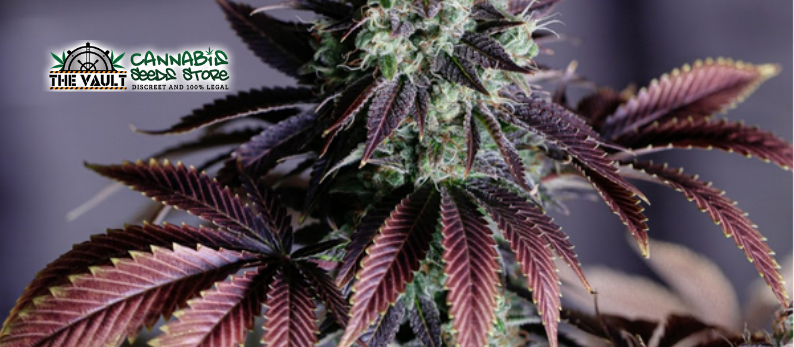 Weed is a magical plant in a number of ways. It is recreationally fun, medically useful and can be ingested in a wide variety of ways. However, one aspect of cannabis that is often overlooked is how beautiful the plants themselves can be. They come in a wide variety of colours, sizes, shapes and with different amounts of resin crystals. For the grower that not only wants something function but also lovely to look at this is a list of the most beautiful cannabis strains.
Dark Devil
Most of my personal favourites are dark purple varieties. This is primarily because the sparkling THC resin catches the light and gives the plant the appearance of a star-covered night sky. Dark Devil is definitely one of these beautiful shimmering void plants. The buds are medium-sized and compact due to the fact that this version is autoflowering. It is a combination of Big Devil XL and Purple Kush Auto. This strain is not only a gorgeous addition to any garden but is a high-quality Sativa/Indica hybrid that is ideal for all types of growers. When the buds are growing they have a variety of red colours that come through, but that darken during the drying process to a deep dark purple. This strain has a flowering time of around 63 days and will grow indoors or outdoors. The yield usually sits at around 50 – 200 g/plant outdoors and 400 – 600 g/m2 indoors.
Skywalker Kush
This strain shows a combination of bright orange hairs, deep green leaves, and such a thick coating of resin it looks like it's covered in snow. This strain is a combination of Skywalker and OG Kush so it's another strain that isn't just a pretty face. It is an Indica dominant strain with a strong and relaxing effect. This strain is beautiful but is also one of the most popular strains in the US. It has a THC level of around 15 – 20% and is a vigorous grower that produces large, dense buds. Skywalker Kush is high yielding and has beautifully complex flavours that go with the stunning array of colours in the plants. No matter the level of the grower she will always give fantastic results. This strain has a flowering time of 56 – 63 days and can be grown indoors or outdoors.
Good Shit
As the name suggests this is just an all-round fabulous plant. A little different to the others she grows bright pink flowers that will go to a purple colour as they dry. While growing it will fit in beautifully in a regular garden, maybe with a few buddy plants to keep insects away. She is a relaxing but uplifting Sativa strain that produces large yields of THC covered buds. The THC level is around 15 – 20% so it is a good strain for all types of smokers. This strain is often described as luxurious due to her wonderful flavour and scent that goes beautifully with the comfortable but happy high. This strain is also perfect for anyone that suffers from anxiety, paranoia or stress. This strain is also very easy to grow and will be great for all levels of grower. The flowering time is around 56 – 63 days and it can be grown indoors, outdoors or in a greenhouse.
Black Diesel
Black Diesel is another dark strain that looks like a night sky as it blossoms. Even the buds on this strain are beautifully dark after drying. It also has a strong scent of ripe grapefruit which adds to the happy, upbeat high. It is a special selection of New York Diesel, which is one of the most popular strains on the market. It is an extremely high yielding plant with a THC level of around 19%, so definitely one for the more seasoned growers. It also usually stays between 70 – 100cm but if it is given free rein outdoors it can reach up to 400cm. The buds themselves are large and dense with their beautiful colouring and a crystalline layer of resin. This strain has a flowering time of 9 – 10 weeks and will grow well indoors or outdoors.
Acapulco Gold
This strain has some incredible genetics and comes straight from Acapulco Mexico. This strain is known all over the world as being the cannabis equivalent of a Michelin Star restaurant. Acapulco Gold is incredibly old and has been used since the days before the US was even colonised. It gets the gold part of its name from the beautiful colouration of the buds, a combination of gold, soft brown, green and orange. It is Sativa dominant and has a long-lasting relaxing yet uplifting effect that is ideal for recreational and medicinal users alike. She is also an award winner and took 1st place at the Sativa Cup in 2010. The THC levels usually reach an incredible 21%, so less seasoned smokers should keep an eye on this strain. She has a flowering time of 60 – 70 days and can be grown indoors, outdoors or in a greenhouse.
Blueberry Cheesecake
Our final strain is a real beauty, with a light blue coating of crystal that stands out beautifully against the dark green and violet foliage. She also has bright orange pistils that stand out brightly against the shimmering resin. She is not only stunning but delicious. She has a juicy, blueberry aroma with that slight sweetness that gives it that cheesecake feel. The combination of sweet and tangy is mouth-watering. The effect is extremely uplifting and feel-good with a lovely social hit that makes it perfect for parties and socialising. It is also great for anyone who is suffering from depression, anxiety, pain, migraines or joint issues. Overall she is one of the most luxurious and delicious strains on the market. Blueberry Cheesecake produces amazing yields and will usually grow to around 80 – 100 cm. This strain has a flowering time of around 60 days and can be grown either indoors or outdoors.
*Image via Unsplash
Remember: It is illegal to germinate cannabis seeds in many countries including the UK. It is our duty to inform you of this fact and to urge you to obey all of your local laws to the letter. The Vault only ever sells or sends out seeds for souvenir, collection or novelty purposes.
Make sure you never miss another Vault promo and sign up for our newsletter at http://goo.gl/Bt2Ba2