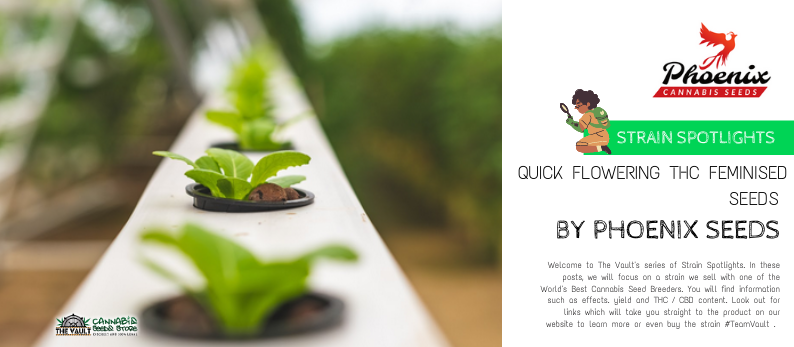 Name: Quick Flowering THC Feminised Seeds
Breeder: Phoenix Seeds
THC Level: High
Effects: Powerful, Relaxing
Yield: 500 – 600g
Flavour: Fruity, Sugary, Sweet
This fantastic strain was created to fulfil the basic roles that the average cannabis strain should play. It is a fast flowering strain with high THC that produces an extremely enjoyable smoke. It is relaxing, calming and generally delicious. It also grows into beautiful, high yielding plants with thick coatings of sparkling resin.
Background
This strain was created by phoenix seeds to make cannabis growing simple and rewarding. Quick Flowering THC Feminised is easy to grow and so fast flowering that growers should be able to produce multiple crops in one season. Not only was this strain specially bred to be strong and fast flowering but also to provide impressive yields. This makes it the ideal strain for commercial growers. It is not just great for commercial growers because of the growing speed and THC content but the flavour makes the strain have excellent bag appeal.
Effects
This strain is Indica heavy and with its high levels of THC, it is potently relaxing, comforting and soporific. This makes it ideal for a variety of recreational and medicinal users. Recreationally it is ideal for chilling of an evening, potentially after a long day, and watching some fun TV. Medicinally this strain is fantastic for dealing with the symptoms of insomnia, stress, depression, anxiety, muscle pain and joint pain. Since the THC level is very high this may not be the best strain for those who are just getting used to smoking.
Flowering and Yield
One of the primary points of this strain being bred was to give it the shortest flowering time possible. Amazingly they managed to whittle it down to just 7 weeks while still letting the plant produce impressive yields. The yield will usually reach around 500g/m2 indoors and 600 g/plant outdoors. Since the flowering time is so extremely short, this strain can be harvested twice in a growing season giving a grower 1200g from just two plants in a season. This is why this plant is considered an excellent idea for commercial growers that can grow multiple plants per season anyway.
Flavour
Quick Flowering THC Feminised has so many excellent aspects to it, but one thing that makes it so popular is the flavour. This strain tastes like sugary fruity sweets, the kind that cause the mouth to water. This goes perfectly with the comforting, relaxing effect and makes it a perfect strain to have as a treat. The scent is a little intense-like but still with that sweet fruitiness that comes through in the taste.
Would you like to add some Quick Flowering THC Feminised Seeds to your collection?
If you'd like to add some of these powerful seeds to your collection, The Vault is giving away an amazing 10% discount off Quick Flowering THC Feminised Seeds when you enter the code: FIRST10 in the cart!
Make sure you never miss another Vault promo and sign up for our newsletter at http://goo.gl/Bt2Ba2
Remember: It's illegal to germinate cannabis seeds in many countries. It is our duty to inform you of this important fact and to urge you to obey all of your local laws. The Vault only ever sells or sends out seeds for souvenir, collection or novelty purposes. All of our content is provided for educational purposes only.