Cannabis Sourdough Recipe
With the cost of groceries rising, more and more people are finding ways to create their own delicious foods, and bread is no exception. We have a great Cannabis Sourdough Recipe for you to try today.
We think you'll absolutely love it! Plus, with many of us in lockdowns and having curfews to obey, why not get more comfortable in your cannabis kitchen?
Sourdough bread is relatively fool-proof – and even if you don't follow all instructions perfectly, you may just end up with a weirdly-shaped loaf of bread, but the taste will still be fantastic!
What Does Sourdough Bread Taste Like?
If you haven't had the pleasure of enjoying sourdough before, you're in for a treat.
It has a nice, golden-brown crispy layer on the outside, with a thick, tangy and chewy bread on the inside – this is because of it's fermentation process which health professionals claim does wonders for your gut!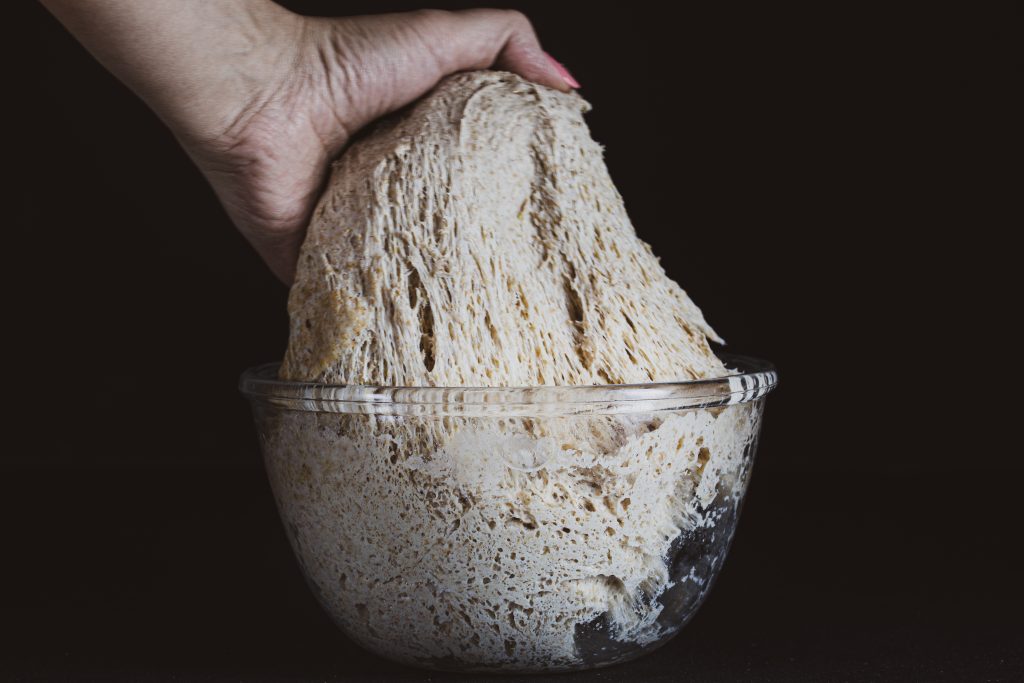 Is Sourdough Gluten-Free?
Sourdough bread alas, is not entirely gluten free. It is lower on the gluten-free scale than many other breads, which is great – but there is still gluten.
Instead, if you have it available to you, buy gluten-free grains or invest in a gluten-free sourdough starter to get you going.
How Do I Infuse Cannabis into Sourdough?
The first step is choosing your cannabis strain. Just think about the feeling and affects you would like to have when you've consumed your weed-sourdough.
Want to feel relaxed and couch-happy? Perhaps an Indica strain is best for you.
Need a pick me up and to feel more alert or focused? Sativa all the way!
Or, if you want a balance between the both, a Hybrid strain is always nice.
Just talk to your local dispensary or budtender to get the right strain for the results you want to achieve.
The second step is the process of decarboxylation. It takes a little time, but you'll have the BEST product with the most effect. Don't skip this part!
How To Decarb Weed
Cannabis Sourdough Recipe
You'll need a whole lot of patience when first starting out with sourdough bread, so if you wanted a snack that was quick and easy, this is not the one.
We do, however, have tons and tons of tasty weed edible recipes to look at, and you can always come back to this one when you feel ready!
Give yourself at least 13 hours of prep and rest time. I know it sounds long, but it will be worth it in the end and you'll have two tasty loaves of bread!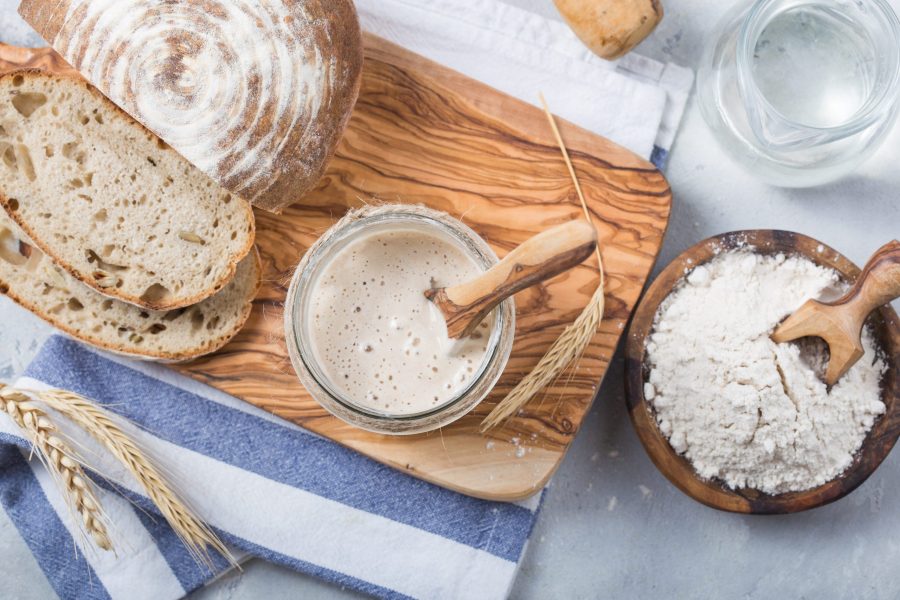 Servings: 4 people
Author: Steph Van De Ven
Cost: 25+
8

cups

white bread flour

3 3/4

cups

water

filtered is best

2/3

cup

sourdough starter

you can find yours online or at many local grocers

1/4

cup

chia seeds

14

grams

decarbed cannabis

4

tbsp

rice flour

for dusting

4

tsp

seal salt
Start 'feeding' the sourdough starter at least eight hours before you're ready to start making the bread.

Add all of the dry ingredients except for the decarboxylated cannabis, seeds, and rice flour to a large mixing bowl. Use a whisk to mix them all up.

After 8 hours, you can slowly add the starter water to the dry ingredients. Use your wooden spoon for mixing, as the dough will get a lot harder and tacky.

Hold a clean tea towel under warm running water, and then squeeze it out before using it to cover the sourdough.

Leave the dough at room temperature to rise for 15 minutes, covered with the warmly-rinsed tea towel.

Soak your hands, and then use them to grab the dough from either side, stretching it apart and then folding it back into itself kneading as best as you can.

Take the edges of the dough from the opposite direction and make the same motions.

Repeat until your dough becomes nice and stiff. Cover it with your tea towel, and rest for 15 minutes again.

After 15 minutes, wet your hands, and knead the dough underneath in case there was anything you missed before. Knead it well, and then cover with plastic wrap, and rest for 12 hours on the counter, at room temp.

After 12 hours, poke the dough and if it's hard, it may need a little more time but if it's soft and fluffy, you can move on to the next step.

Preheat your oven to 450 F

Knead cannabis into the dough with wet hands before flipping it over and giving it a final stretching to ensure that the grind is mixed in really well.

Line your two bread pans with parchment paper, then split the dough in half so you can sprinkle four on top before placing them in.

Flour your two halves of sourdough. Place them each into the pans, and sprinkle chia seeds on top.

Use a sharp knife to score the top of the bread in a cross and then bake both loaves in the oven for 25 minutes.

Once the sourdough bread has finished cooking, leave the bread on the counter for an hour or so, before serving and enjoying!

You can store your bread on the counter, in a seal-tight container. It probably won't last long, but just in case! 😉
If you're looking to up-level your canna-cooking game, you may want to start here.
For more recipes like this one, check out our recipe index here.
Share our post and comment below! We'd love to hear from you.
As always, happy canna-cooking!