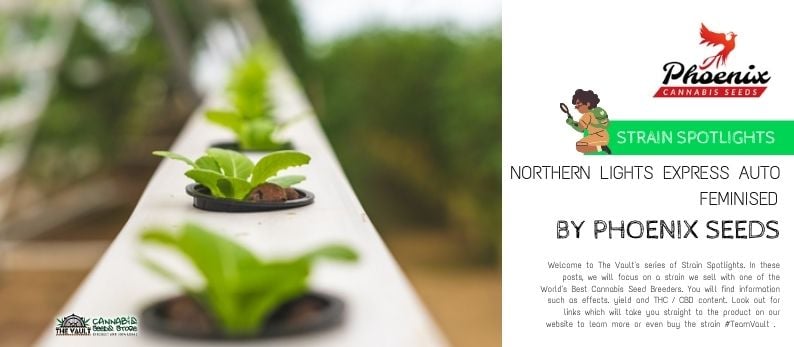 Name: Northern Lights Express Auto Feminised
Breeder: Phoenix Seeds
THC Level: 16%
Effects: Relaxing, Euphoric, Uplifting
Yield: 90g – 200g Per Plant
Flavour: Sweet, Spicy
Northern Lights is probably one of the most famous and most popular cannabis strains around. This version is compact, fast flowering and gives impressive yields. Northern Lights first came onto the scene in the 1970s and hasn't budged in popularity since. It is well known for its therapeutically uplifting yet relaxing effect as well as its delicious flavour profile. Northern Lights is also a pure Indica that produces incredible amounts of THC crystals.
Background
As already mentioned this strain began life in the 1970s in Seattle near Washington, but by 1985 it found its way to the Netherlands. Here it permeated every major coffee shop and quickly became a favourite all over the world. Northern Lights has not only been a huge strain for the cannabis enjoying population but also gave rise to several other famous strains such as Super Silver Haze and Shiva Skunk. She was initially created by crossing Afghani and Thai landrace strains, which explains her overall superior quality.
Effects
Northern Lights combines relaxation and pure comfort with euphoria and an overall sense of wellbeing. This means she is ideal for anyone who struggles with depression, pain, stress or anxiety. She is also a perfect nighttime strain for anyone who just can't convince their brain to quieten down before bed. She has a relatively high CBD content which makes her great for medicinal users. For recreational use, she is ideal for use after a long day at work or just during a difficult time to remove stress and allow for a little rest.
Flowering Time and Yield
This version of Northern Lights has a flowering time of just 7 weeks, an extraordinarily short flowering period for this type of plant. The yield usually sits between 90g and 200g per plant, not incredibly high but excellent for an autoflowering plant. The resin layer is so thick on these plants that growers don't need such a large yield anyway. She is an extremely resilient plant which also makes her perfect for all levels of grower. This version is autoflowering so growers don't have to worry about light cycles or dealing with excessively large plants. Usually, these babies will grow to 100 – 150 cm.
Flavour
Her flavour profile is one of the most popular aspects of this strain, and it has some competition. It is somehow simultaneously spicey yet sweet with a velvety smooth smoke. The scent is pungent but in the way that makes you inhale deeply from the bag over and over again before smoking. She is a strain for the discerning smoker or the cannabis connoisseur.
Remember: It's illegal to germinate cannabis seeds in many countries. It is our duty to inform you of this important fact and to urge you to obey all of your local laws. The Vault only ever sells or sends out seeds for souvenir, collection or novelty purposes. All of our content is provided for educational purposes only.
Would you like to add some Northern Lights Express Auto Feminised to your collection?
If you'd like to add some of these powerful seeds to your collection, The Vault is giving away an amazing 10% discount off Northern Lights Express Auto Feminised, when you enter the code: Thanks10 in the cart!