Fairwinds Cannabis was founded in Vancouver, Washington, in 2014, and already distributes more than 50 products to stores across the state. I spoke with Account Manager Kristin Jarvis-Fisher about their special relationship with downtown Bellingham's only marijuana retailer, Piece of Mind Cannabis, and the wide-ranging line of unique products they offer.
How did you come to be involved with Fairwinds?
I grew up in Vancouver, Washington, and moved to Pullman to get degrees in finance and business management at WSU. My college job was in a pot shop, and I fell in love with Fairwinds and their tinctures and other products. A position opened up in their Central and Eastern Washington territories, and I've been here ever since.
Fairwinds is a "tier-two" producer and processor out of Vancouver, which means we're a medium-sized grower of our own cannabis, and we produce our own products. We started selling to cannabis stores back in March of 2015, and the Piece of Mind Cannabis store in Spokane was one of our first accounts.
Speaking of tinctures, it sounds like the health aspect of cannabis is important to you.
The idea behind our products is to combine ancient herbology with modern technology. Our chemist, Max Goldman, spent years in India at a Buddhist ashram where he studied ayurvedic medicine, and we're bringing that mindset to all of our products. It's definitely beneficial for us to work with companies like Piece of Mind Cannabis that have always been focused on bringing light to the medicinal side of things.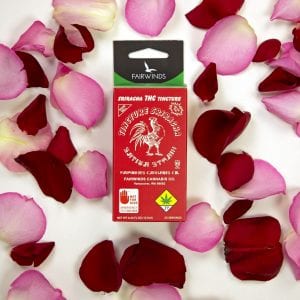 Fairwinds also has a reputation for creating some pretty unusual products. Do you try to find products that are missing from the market, or is it more about having a sense of humor?
We're very much known for tinctures and topicals, and we've won two Dope Cups for those, but we also have things like capsules and vapes. We recently came out with THC inhalers, and we have things as unique as suppositories and a sriracha-style hot sauce. The sriracha is a special type of tincture; usually we encourage tinctures to be absorbed beneath the tongue, but with the sriracha, you can put it on anything. We tried to stay close to the original type of hot sauce, and ours is just a little bit spicier. People really go crazy over it, and it's not something you're going to see everywhere.
We definitely look for gaps in the market, but we want to have some fun products too, which leads to our O Intimate Lubricant. It's silicon-based and safe for use with condoms, and users say that it promotes a warm, tingling sensation. That's because it increases sensation and promotes blood flow, just like when a person gets bloodshot eyes from smoking pot.
It's not necessarily the most medicinally-focused product, but I recently found a review from a person with an ailment that made sex less pleasurable. She says that using the O Intimate Lubricant really made her feel comfortable for the first time in a long time. So something that may be thought of as more of a recreational product can definitely have its medicinal benefits, too.
We've also recently come out with a "one-to-one-to-one" product. Many people are familiar with CBD and THC, two of the compounds found in cannabis, and we have products that feature them in a one-to-one ratio. But recently there has been a lot of research into the benefits of CBG, which acts as an analgesic for pain relief, it helps with mood balancing, with appetite stimulation, and as an antidepressant and anti-inflammatory. So this new line is really great for people that want something that's great for daily use. It will give you that mood balance, but not necessarily get you super high.
What has made Fairwinds' relationship with Piece of Mind Cannabis so long-lasting, and strong?
Our products can be a little bit harder to sell to people who are not familiar with CBD or cannabis in general, so we've developed a Budtender's Empowerment Program. So far, three of the five Piece of Mind Cannabis locations are certified, and there are almost 50 salespeople, or "budtenders," that have gone through the program. That's because Piece of Mind Cannabis puts such a great emphasis on education with their budtenders, and we really appreciate that.
We recently started Fairwinds Fridays, because some of our products can take a little explaining. So we're giving the budtenders and customers one day a week to focus on Fairwinds products, to take the time to have conversations about products that may be beneficial, and then giving customers a discount to actually try it for themselves.
At Piece of Mind Cannabis North, in Spokane, they actually gift products to patients. When cannabis became legal and the industry moved toward the recreational aspect, a lot of medical patients lost out on some of what they needed. A lot of us have been in the industry since before recreational sales, and the medical side of it really rings true to us, so it's cool to see stores take advantage of the legal ability to gift medical products to patients. Not a lot of stores are doing that.
Learn more about Fairwinds Fridays by clicking here.
Sponsored


Source: https://www.whatcomtalk.com/2021/02/10/fairwinds-cannabis-is-focused-on-health-and-serious-about-fun/
» Inline Ad Purchase: Intext Link