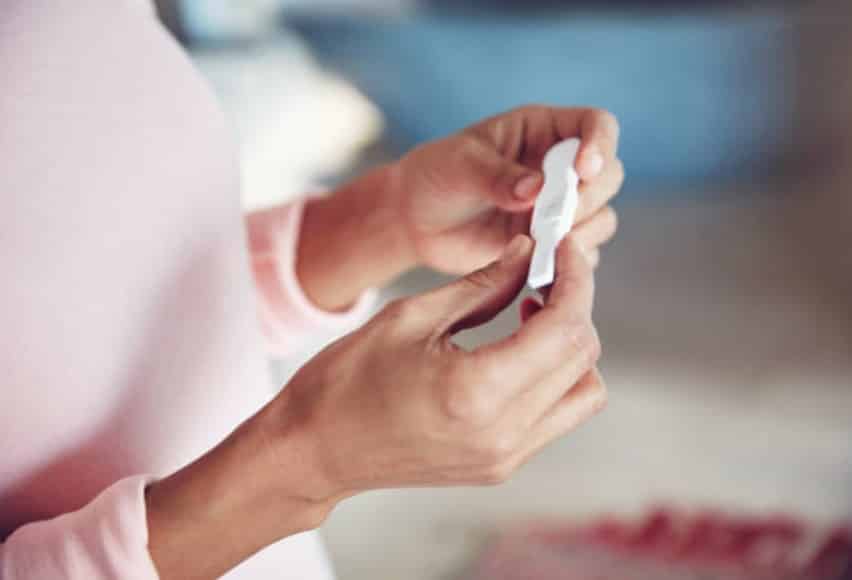 How CBD
Helps With Fertility
The Centers for Disease Control and Prevention (CDC) notes that emotional stress may increase the risk of infertility among women(1).
According to a 2014 study, cannabidiol (CBD) may improve psychological wellness by reducing depression and anxiety(2). Such mental health disorders may be associated with reduced conception(3) rate and infertility(4).
Meanwhile, another study reported that CBD may help attenuate fertility issues by interacting with the endocannabinoid system (ECS)(5).
A study hypothesized that the ECS dysregulation may lead to polycystic ovary syndrome (PCOS), an ovulation disorder linked to female infertility(6).
PCOS may be caused by the decreased fatty acid amide hydrolase (FAAH), an enzyme that breaks down anandamide (AEA).
Low AEA levels may cause a miscarriage(7), while high AEA levels may lead to the overproduction of oocytes (immature egg cells) to form multiple cysts in the ovaries(8).
Symptoms, such as irregular menstruation cycles and enlarged ovaries, may be associated with PCOS(9).
Meanwhile, cannabinoid receptors 2 (CB2 receptors) in the ovarian follicles may help AEA in oocyte maturation(10).
Furthermore, a study observed that CBD may bind to the cannabinoid receptors in reducing inflammation(11), another symptom associated with PCOS(12).
However, the excessive activation of cannabinoid receptors 1 (CB1 receptors) may cause insulin resistance for women with PCOS(13).
Women with endometriosis, another female reproductive tract-related disorder, may have a higher risk of infertility due to the formation of endometrial-like tissues outside the womb(14).
Those with endometriosis may experience inflammation and chronic pain in the pelvic region(15). These symptoms may be reduced by CBD(16).
A study reported that CBD oil may help in reducing pain and improve the mood of women with endometriosis(17).
As for males, a study suggested that the G-protein coupled receptors (GPR18) may activate an acrosome reaction (sperm penetration to fertilize the egg cell)(18).
However, CBD may negatively affect male fertility, such as the decreased sperm concentration, fertilization rate, and sexual behavior(19).
A study also hypothesized that CBD use may decrease motility and viability of sperm cells, leading to infertility(20).
In another study, it was noted that in vitro fertilization (IVF) increases the chances of conception(21). However, the researchers believe the procedure may increase the maternal death rate.
Clomiphene citrate, a drug used to increase sperm production, may cause side effects, such as weight gain, hair loss, gastrointestinal distress, gynecomastia (enlargement of male breasts)(22).
Individuals looking for a natural alternative may opt to use CBD oil to avoid the adverse effects of other fertility treatments.
However, it is essential to consider that CBD may produce different effects on the reproductive system of both sexes. The best course of action is to consult an obstetrician and gynecologist (OB/GYN) before using any CBD products.
Benefits of Using CBD for Fertility
CBD may provide health benefits that can help with conception.
Researchers reported that depression and anxiety may inhibit conception(23). CBD may help in attenuating these psychological disorders(24).
Studies suggested that infertility, such as PCOS, may be linked to ECS imbalance(25).
Meanwhile, CBD may activate and regulate the ECS receptors and enzymes. A study stated that CBD may modulate the ECS by regulating the oocyte formation and maturation, reducing the risk of PCOS(26).
The overproduction of oocytes may cause the enlargement of ovarian follicles, leading to infertility(27).
A study stated that CBD may interact with the ECS, particularly with the CB1 receptors, in maintaining the regular production of oocytes(28).
Another study also showed that fertility-related disorders, particularly endometriosis, may cause inflammation and pain(29).
Research has suggested that CBD may have anti-inflammatory and analgesic (pain relief) effects useful to endometriosis patients(30).
Risks and
Side Effects
of Using CBD for Fertility
Despite the purported CBD benefits for fertility, the compound may produce side effects, such as tiredness, dry mouth, fatigue, loss of appetite, drowsiness, and diarrhea(31).
Furthermore, CBD use may decrease the sperm count, fertilization rate, and sexual behavior of males(32).
CBD may also interact with other medications, including blood thinners(33) and insulin-related medications(34).
CBD may provide lesser adverse effects than IVF and clomiphene citrate. However, it is still necessary to consult with a doctor first before using any CBD products.
How Soon Can the Effects of CBD Be Felt?
You may feel the purported therapeutic effects of CBD based on your preferred CBD form.
CBD tinctures are placed sublingually (under the tongue) for around 90 seconds before swallowing(35). The effects may be evident within 15 to 45 minutes upon application.
Meanwhile, CBD topicals may take effect within 15 to 30 minutes upon applying the product onto the inflamed part of your skin(36). The effects may last from two to four hours.
If you want to avoid the earthy taste of pure CBD hemp plant extract, you may find CBD edibles, such as CBD gummies, as a favorable option.
However, CBD edibles may take around 30 to 60 minutes upon consumption as they need to pass through the digestive system(37). The effect may last for over six hours.
Vaping CBD may not be recommended for everyone, especially pregnant women, despite providing an instantaneous effect(38).
A study suggested that vape and e-cigarettes may worsen lung disorders(39) and inhibit pregnancy(40).
Choosing the Right
CBD
Oil
for Fertility
CBD products for fertility come in different forms, including CBD tinctures, CBD edibles, and CBD topicals. Here are some tips for choosing high-quality products:
Full-spectrum CBD oil contains all the naturally occurring compounds of the hemp plant, such as terpenes, fatty acids, flavonoids, and cannabinoids.
Among the cannabinoids present in full-spectrum CBD oil is delta-9-tetrahydrocannabinol (THC). This psychoactive phytocannabinoid may lead to a positive drug test result if frequently used.
For those wanting to get pregnant, it may be best to avoid full-spectrum CBD. The presence of THC may result in infertility among males(43).
Meanwhile, broad-spectrum CBD oil contains the same compounds present in a full-spectrum CBD except for THC. If you want to avoid the side effects of THC or you are allergic to the compound, you may choose this CBD product.
Meanwhile, you can also choose CBD isolates. These CBD products are pure CBD extracts without the other compounds of the cannabis plant, hemp.
Legality of CBD
In the US, 47 states already legalized CBD use with varying state regulations(44).
As stated in the 2018 Farm Bill, CBD products with less than 0.3% THC can be used legally on a federal level(45).
However, marijuana is still considered a Schedule 1 drug, substances deemed to have potentially addictive or abusive substances without any officially recorded medical benefits(46).
According to the FDA, it is still illegal to sell CBD products as a dietary supplement(47).
Despite the legalization of CBD use in the US, it is still recommended to review the regulations of using CBD products in your state(48).
CBD Dosage for Fertility
The FDA has no approved dosing guide for CBD for fertility.
However, the FDA suggests a starting dosage of 2.5mg of Epidiolex, the only FDA-approved CBD product for rare cases of epilepsy(49), twice a day(50).
A study on sleep and anxiety reported that individuals may tolerate a daily dose of 25mg to 175mg of CBD with some side effects, such as dry eyes, fatigue, and mild sedation(51).
Another human clinical trial showed that individuals could tolerate up to 1500mg of CBD per day(52).
As a precaution, starting with a low dosage of CBD is recommended. You may gradually increase the dosage until you obtain your desired results.
However, consulting a medical specialist is still suggested before using any CBD products for fertility.