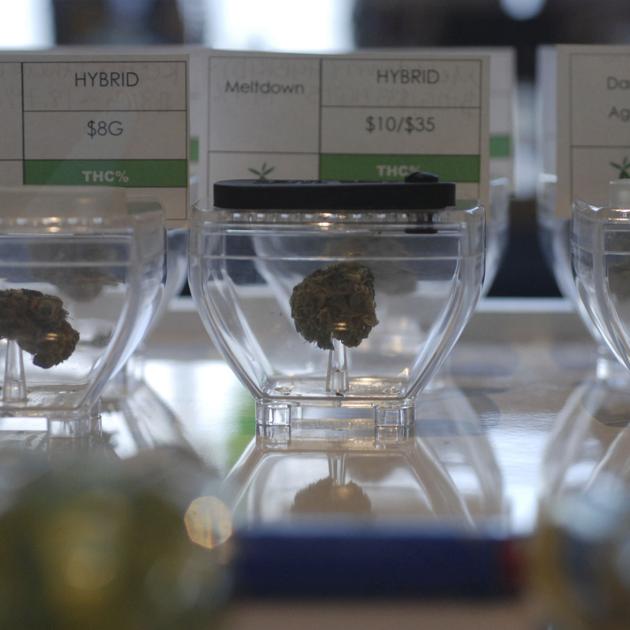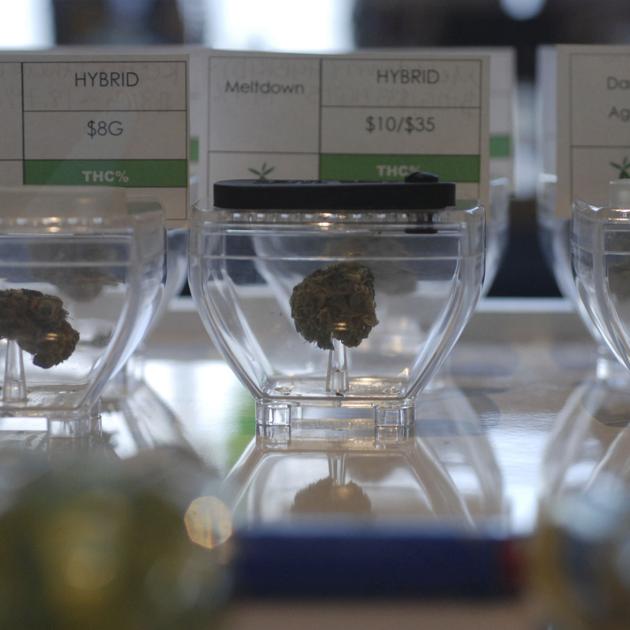 BOISE — In a three-hour hearing Monday, Idahoans offered ardent testimony for and against a proposed constitutional amendment crafted with the aim of preventing the state from ever legalizing medical or recreational marijuana.
Sen. C. Scott Grow, R-Eagle, lead sponsor of SJR 101, said he believes in other states where marijuana has been legalized, wealthy out-of-state interests pushed for the moves to the detriment of residents.
"Idahoans respect the law and celebrate freedom," Grow said. "We love our country, we want to keep Idaho Idaho. … This is for the overall good of the state of Idaho."
The proposal would only allow Idaho to have psychoactive drugs that are legal and FDA-approved, prescribed by doctors, and dispensed by pharmacies. Grow said he wants to "lock in" current Idaho drug laws, but that his measure still would allow for Idaho lawmakers to legalize industrial hemp or CBD oil in the future if they choose to do so.
At the close of the hearing, Sen. Patti Anne Lodge, R-Huston, said the Senate State Affairs Committee will vote on the measure on Wednesday, but will take no further testimony.
Among those speaking out against the bill was Jeremy Kitzhaber, a disabled U.S. veteran with stage 4 terminal cancer.
"I experience pain 24/7," Kitzhaber told the Senate State Affairs Committee. After two major surgeries and 20 rounds of chemotherapy, "My tumors continue to grow and continue to crush my organs," he said. "Because of that I am on three different opioids. I must also carry my Narcan." But use of opioids can cause bowel obstructions, he said, which kill people with his type of cancer.
"My specialists have all told me that they would prescribe medical cannabis, but they can't because I live in Idaho," Kitzhaber said.
He noted that 36 states have legalized medical marijuana, but it still lacks the FDA approval required in the bill. If medical marijuana is approved nationally, he said, SJR 101 could leave Idaho as the only state where veterans can't get the treatment at their local Veterans Administration hospital.
Canyon County Sheriff Kieran Donahue spoke in support of the proposal, both personally and on behalf of the Canyon County Sheriff's Office. "What it does is it takes a step in the right direction," he said. "I have family today that are in prison because of drug use."
Donahue said he also has family who are in the hospital and victims of domestic violence because of drug use. "So I'm pretty passionate about this," he told the senators. "This is not Colorado, this is not Oregon, this is Idaho, and it's imperative that we take the steps to address this issue."
Medical doctors spoke both for and against the proposal.
Dr. Joseph H. Williams, current president of the Idaho Medical Association, spoke in favor of the amendment. "The Idaho Medical Association's purpose is to support the health and well-being of all Idahoans," he said. "The current laws which make these substances illegal are rooted in scientific evidence on addiction."
Dr. Dan Zuckerman, an oncologist and director of the St. Luke's Cancer Institute, spoke against SJR 101. He said when he was in medical school 20 years ago, there was little data or evidence for use of medical marijuana, but that's changed. "In my area of oncology, the data are clear that patients benefit from this," he said. "My patients don't come in with an agenda about politics or about drug addiction. … They just want relief."
Testimony ranged from personal stories about people's experiences with family members suffering from addiction, to warnings that without this move Idaho will become like California.
The Rev. Bill Roscoe of the Boise Rescue Mission told the senators, "Marijuana, like alcohol, because of its social acceptance is a primary gateway drug. … I have known literally hundreds of people addicted to hard drugs whose first use was marijuana, usually introduced in adolescence."
He said drugs are dangerous. "I completely support this effort to permanently outlaw the use of them in the state of Idaho," he said.
Among the final few to testify was William Esbensen, who has long promoted medical marijuana initiatives in Idaho and has one in the works now. "You guys are so afraid of marijuana you're willing to blow up the state Constitution," he told the committee.
He noted that six marijuana shops just across the Oregon border in Ontario are making $8 million a month in sales. "Our money is going there," he said. "They bring it back to smoke here. So we get all the downsides that you guys are talking about marijuana, and none of the tax revenue to deal with it."
A total of 27 people testified, including 16 in favor of the proposed amendment, nine against and two neutral; all but two testified in person, with the other two testifying remotely.
To change the Idaho Constitution, SJR 101 would need two-thirds passage in the full Senate and the full House and majority approval from voters in the November 2022 general election.
Source: https://www.idahopress.com/news/local/idahoans-speak-out-for-against-anti-drug-constitutional-amendment/article_e4ae56f9-1d5c-575e-9012-f5fe753ac7d9.html
» Inline Ad Purchase: Intext Link